A public consultation is now open on the proposal to create a new "Fishery Order" in the eastern Menai Strait to replace the Fishery Order that has been in place since 1962.  This new Fishery Order is vital for the future of shellfish farming in this area, and we are keen to hear your views about it.
The consultation is open between 8th April and 8th May 2021.  Formal notices of the consultation have been posted in Fishing News, the Daily Post and Western Mail.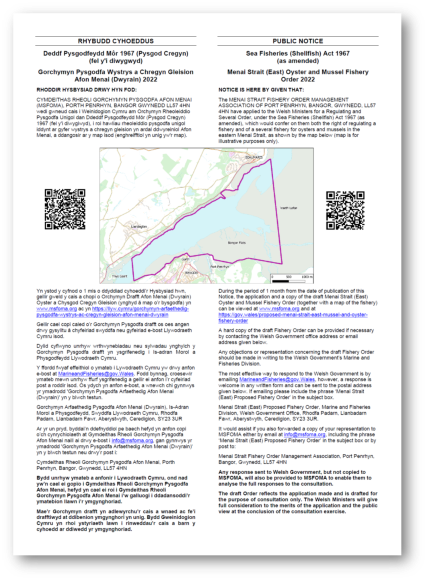 In practical terms, the proposed new Fishery Order is a "like for like" renewal of the existing 1962 Order.  The key features of the new Fishery Order are:-
Shellfish farming areas and activities will remain in the same locations as they are today; and
Existing day-to-day activities (such as sailing, angling, and walking on the beach) will be unaffected.
A copy of the new "Fishery Order" can be downloaded here.  We have provided some information below to help you to respond to both Welsh Government and MSFOMA, and also some background information about shellfish farming in the Menai Strait.
About this consultation
This consultation is being carried out in accordance with the Sea Fisheries (Shellfish) Act 1967.  The Act requires (at Schedule 1) that we carry out a consultation exercise for a new Fishery Order for a period of one month.
Who is being consulted?
As part of the statutory process we are required by law to consult with landowners, lessees, and occupiers of land as well as statutory bodies and statutory undertakers. 
The consultation is also open to anyone with an interest in the area.  To raise awareness we have placed advertisements in local newspapers, and have sent notices directly to all of the interested parties that we are aware of and who have been in touch with us already.  We have also sought feedback through our website and social media.  
How long do I have to respond?
The consultation period started on the 8th April 2021 and will last for a period of one month, ending on the 8th May 2021.
How do I respond?
You can respond either by post or by e-mail.  If possible, please respond to both MSFOMA and to Welsh Government – this is simply so that both parties will know what your views are, and to ensure compliance with data sharing legislation.  You can do this by clicking this link here, which should automatically generate an e-mail for you with both the Welsh Government and MSFOMA e-mail addresses.
The full contact details for both Welsh Government and MSFOMA are:-
Menai Strait (East) Proposed Fishery Order, Marine and Fisheries Division, Welsh Government Office, Rhodfa Padarn, Llanbadarn Fawr, Aberystwyth, Ceredigion, SY23 3UR.  MarineandFisheries@gov.Wales.
Menai Strait Fishery Order Management Association, Port Penrhyn, Bangor, Gwynedd, LL57 4HN. info@msfoma.org.
Background
The eastern Menai Strait is the most important aquaculture site in all of Wales, and the single largest mussel farming area in the whole of the UK.  The success of this area is due to the unique natural environment that is perfect for mussels, and also the legal protection (known as a "Fishery Order") that has allowed local mussel farmers to cultivate mussels here secure in the knowledge that they can harvest the mussels that they cultivate.
The "Fishery Order" that the Government made in 1962 is due to expire next year.  If it is not replaced then Wales will lose its leading place in UK aquaculture, and the local businesses and jobs that depend on the mussel fishery will vanish.  The renewal of this Fishery Order is important for Wales and for the local economy.
Over the past 59 years the shellfish farmers in North Wales have worked hard to establish their current position in UK aquaculture.  They have commissioned research by scientists from Bangor University to investigate how to minimise environmental impacts and to make the best use of the area so that mussels can be farmed sustainability.  In 2010 the Menai Strait mussel fishery became the first mussel farming area in the world to be certified by the Marine Stewardship Council.
Detailed information about mussel farming techniques and about the Fishery Order can be found on our FAQ page.