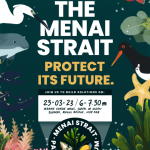 The Menai Strait Partnership Forum will hold its first meeting on the 23rd March 2023 at 6pm, at the Marine Centre Wales.
This Forum has been created through a partnership between MSFOMA and the North Wales Rivers Trust.  The purpose of the Forum and the event is to consider the issues facing the Menai Strait, particularly water quality, and to discuss solutions.
This event is part of a project funded by the Welsh Government's Coastal Capacity Building Challenge Fund.  The aim of this fund is to raise public understanding of the marine environment and the pressures that it faces; to build capacity and links between organisations; and to improve the capacity of local organisations to develop future projects and actions.  The Menai Strait Partnership Forum meeting on the 23rd March will provide an opportunity for local people and organisations to build these links and to shape the future of the Strait.  You can find out more about the Forum and some of the key issues affecting the Menai Strait on the North Wales Rivers Trust website here.
Speakers at the Forum meeting include: Dr Lewis Le Vay from the School of Ocean Sciences; Sian Sykes from Psyched Paddleboarding, James Wilson and Alan Winstone from MSFOMA, and more. There will be an opportunity for a Q and A session with the spearkers, as well as hearing your solutions and concerns.
To help with the organisation of the event it would be very helpful if you could register your interest.  We have also put together a short questionnaire to help us guide the future work of this Forum.  It will only take a minute or so to complete.