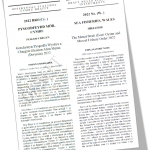 A quick reminder that our consultation on the proposed new Fishery Order for the Eastern Menai Strait will run until Saturday 8th May.
If you want to make any comments, make sure you send them to MSFOMA and Welsh Government by then.
The purpose of the new Fishery Order is to allow shellfish farming to continue in the eastern end of the Strait.  The new Order is vital for the livelihoods that depend on shellfish farming in the Menai Strait.  It will allow local businesses to continue to farm shellfish in the area exactly as they have since the early 1960s.
If you are a local resident, sailor or angler, the new Order will be very much "business as usual".  It will not impose any new restrictions or controls on existing day-to-day activities in the area.  The new Order won't affect sailing, angling, walking on the foreshore, boat moorings, or any of the other activities that currently take place in the Strait.
You can find out more about the new Fishery Order here (English) and here  (Cymraeg), including links to download a copy of the draft Order as well a list of "Frequently Asked Questions".
We very much look forward to hearing from you.  If you have any queries about this consultation, please contact us using the details below or by e-mail.